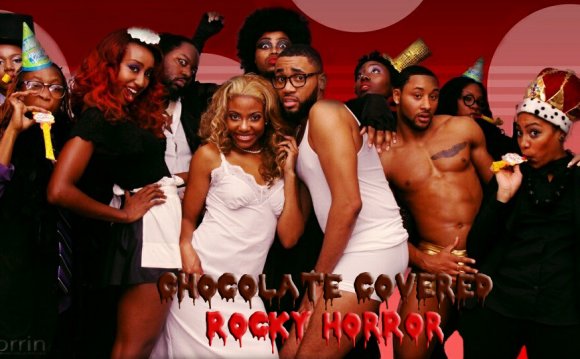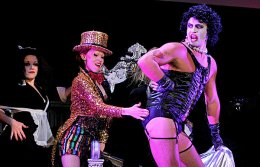 "The Rocky Horror Picture Show" is, of course, a movie best seen not in the privacy of your own home on DVD but rather screened in a theater with an accompanying live "shadowcast" of devotees who know what they're doing. Especially when they're doing, say, the Time Warp.
And when the live performers show up with names like "Nicholson" and "DeVito" or resume credits like "Glee" and "Lost, " and it's the 35th anniversary of the 1975 film starring Tim Curry, Susan Sarandon and Barry Bostwick, it's a good time to raise a little money for charity on top of any sales of popcorn or Red Vines (or rice or toast or water pistols, but that's another story).
Jack Nicholson and Danny DeVito shared the role of the Criminologist on Thursday at the Wiltern Theatre, where a tribute to "RHPS" raised cash for the Painted Turtle, one of Paul Newman's Hole in the Wall Foundation camps for kids with serious medical conditions (almost 13, 000 kids and their family members from around California have enjoyed the Painted Turtle treatment since 2004). The event combined the film version with select live musical performances.
Joining in the pantomime were "Glee" teacher and student Matthew Morrison and Lea Michele, destined to lock lips as Brad and Janet (PTC, are you paying attention? If you missed it, see the scandalous picture below! Oh, the antici ... SAY IT! ... pation); Jorge Garcia of "Lost" as Eddie, a role taken on by many gladiators of stage and screen; Lucas Grabeel of the "High School Musical"
franchise as Riff Raff; "The Office's" Melora Hardin as Columbia; George Lopez as Dr. Scott ("Great Scott!");
Evan Rachel Wood
as Magenta; "Dancing With the Stars" champ Nicole Scherzinger as Trixie; Ricki Lake as a Transylvanian; and Julian McMahon doing a little "Nip/Tuck" to fit into the garter belt of Dr. Frank-N-Furter, a scientist. (Click on the picture of Michele above to launch a gallery of images from the event.)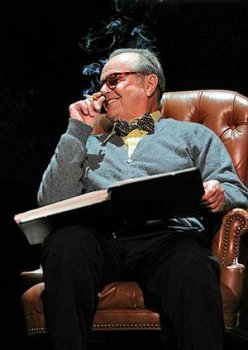 Original Frank-N-Furter Curry joined his alter-ego on stage to do the Time Warp along with Bostwick and the tribute cast. Bostwick, you may recall, just had a cameo in the "RHPS" episode of Michele and Morrison's "Glee, " playing a TV station manager alongside the original Eddie, Meat Loaf. (Click here to see video from the Wiltern performance, featuring DeVito, a singing Scherzinger, Garcia and the many others from the cast.)
Get a taste of "The Rocky Horror Picture Show" - in distribution longer than any other film - in the trailer and montage videos below.
And Mom, um, you know when I called from the pay phone back in 1982 and told you that I had to stay out for the midnight "Rocky Horror" show because it was absolutely the last weekend the movie was screening?
Yeah, I fibbed.
— Christie D'Zurilla
Photo: Melora Hardin gives Julian McMahon a little love tap during a 35th anniversary tribute to "The Rocky Horror Picture Show" at the Wiltern Theatre on Oct. 28, 2010. Credit: Frazer Harrison / Getty Images
Center right photo: Jack Nicholson is smokin' as the Criminologist. Credit: Kevin Winter / Getty Images
Center left: Lea Michele channels the Janet originated by Susan Sarandon. Credit: Frazer Harrison / Getty Images
Bottom right: Matthew Morrison and Lea Michele lock lips as "Rocky Horror's" naive Brad and Janet. Credit: Kevin Winter / Getty Images
YOU MIGHT ALSO LIKE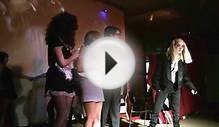 Poor Choice Rocky Horror shadow cast - Floor Show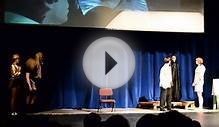 Rocky Horror Shadow Cast Time Warp Sweet Transvestite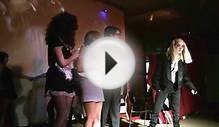 Poor Choice Rocky Horror shadow cast - Time Warp
Share this Post