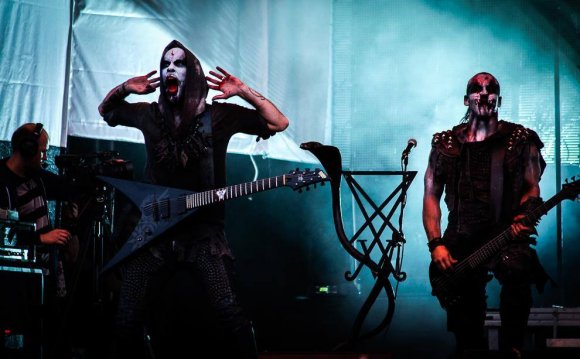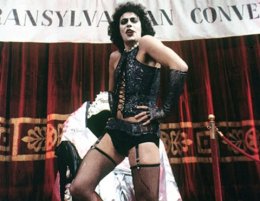 'Susan Sarandon should have been under medical supervision' … the 1975 film, with Tim Curry, Barry Bostwick and Susan Sarandon. Photograph: Ronald Grant Archive
Richard O'Brien, writer and actor
I'd been in Jesus Christ Superstar and Hair, and was starting to think I wouldn't mind seeing a musical that appealed to me, an eternal adolescent. I loved B-movies, rock'n'roll and glam, so thought I'd do a parody – or homage – to all those things.
Then Jim Sharman, the director of Jesus Christ Superstar, asked me to audition for a play at London's Royal Court. There I met Richard Hartley, who was writing its incidental music. One night, Jim brought Richard round to my place, and I sang them some of my songs, including Science Fiction/Double Feature and Hot Patootie. Jim thought they'd make a great show and called me afterwards saying: "They've asked me to do another play at the Royal Court and I've agreed – as long as they let me have three weeks' fun upstairs afterwards." So I wrote some more songs and 20 pages of dialogue. I didn't think it would be a hit. I thought we'd have our three weeks of fun on the Royal Court's upstairs stage then move on.
It grew a lot in rehearsals. I'd written Science Fiction/Double Feature without a musical in mind, but it has the line: "See androids fighting Brad and Janet." Those names seemed to exemplify a clean-cut, boy-girl relationship. Brad and Janet needed their own song, so Dammit Janet went in. I think their sexual awakening is something we can all relate to, but it's not just a sexual rites of passage: when their car breaks down and they arrive at the castle, they're leaving the American dream and walking into an uncertain future.
It's astonishing that the US movie industry bought into it: there we were with a fringe theatre event that hadn't even gone to the West End, and not only were we allowed to make it into a film, we also all got to star in it – with Jim directing. The only imperative from 20th Century Fox was that we include some American actors. That's why Barry Bostwick and Susan Sarandon play Brad and Janet – they were actually an item during filming, too. And then the whole thing nearly got canned when there was a change of head at Fox. Yet, later, this one movie would keep that studio afloat for three years. It's gone into cinema history. I think you could say it's the No 1 cult classic movie of all time.
We filmed in the UK, in an old building next to the Hammer House of Horror studios. It wasn't an actual set: it was an old Victorian gothic revival house a paddock away from the studios that had been used for other films, including the horror movie The Innocents. Listed, gloomy and semi-derelict, with its owner living abroad, it was perfect for us – even if we did have to carry all our lights and technical stuff across the paddock to get to it.
The birthday party for Rocky, the gold-panted creation of Dr Frank N Furter, was the most fun to film, with Peter Hinwood wrapped up in bandages in the laboratory, and all those Transylvanian extras in tailcoats. We finished filming a week before Christmas. It was freezing on set. Susan got really ill: at the end, when she sings Wild and Untamed Thing in the pool, she should have been under medical supervision. She'd had a shocking cold and was shaking with fever, but still she went on.
Jim, directing, played pranks on us throughout filming. When Eddie's corpse was revealed under the dining table, it came as a real shock: none of us had been aware that it was there apart from Tim Curry – playing Dr Frank N Furter – because he was the one who had to whip the tablecloth off. Jim wanted a natural reaction.
When you consider that, with the exception of Susan, it was the first movie for all of us, we made a pretty good film – and we shot it in six weeks too, without going over budget. It's flawed, there's no doubt about that. But it's allowed to be a little bit kitsch, I think, and the flaws are part of that quality. It is rather funny if we see the shadow of a boom mic somewhere.
Rocky Horror was probably not the first example of gender-bending on film, but it was the most in-your-face. When Dr Frank N Furter sings "I'm just a sweet transvestite" without any apology, it was empowering for many people. And Janet singing Touch-A Touch-A Touch Me was controversial, too – a girl wanting to be sexual in a let's-get-down-and-do-it way.
I like to think I'm more of a lyricist than a dramatist. My favourite Rocky Horror line is: "It's not easy having a good time." It still makes me laugh. It's pathetic but it does. And the narrator's last verse in Superheroes – "Crawling on the planet's face, some insects called the human race, lost in time, and lost in space, and meaning" – has a quasi-gravitas I find appealing.
You'd think I'd have had enough of it by now, but as long as the band is cooking and the music is rocking and the audience is laughing, I'm happy as a sandboy.
Richard Hartley, composer
Rocky Horror is just Frankenstein with a twist. Except there's no twisting – it's rock'n'roll. Richard and I listened to the same records when we were growing up, so we just put all the things we loved in. You can hear the influences: a bit of Chuck Berry, and a bit of Rolling Stones in Sweet Transvestite. It's self-indulgent, but the songs aren't pastiche like the ones in Grease.
The space only seated 50 people, but they rolled around with laughter. I've never thought it was that funny. It was done seriously – this wasn't variety-show camp. Until he was in costume, Dr Frank N Furter was a serious scientist. Then, when the high heels came out, it was liberating for him – and Tim Curry appealed to both sexes. For the film, they got in a makeup artist, Pierre La Roche, who did Bowie's makeup, but he took so long – about four hours – that Tim just did his own face.
Time Warp was added during rehearsals because you need a dance number in a musical. Plus we had to pad it out: the show was only about 40 minutes. It evolved on the fly, all within three weeks. I'd dream up musical arrangements as we rehearsed and, though half the cast were vocally challenged, somehow it fell into place.
It was only subversive in the sense that it was raw-edged: the music was like something by a garage band. For the film, we wanted things to be more gothic, so we got two musicians in from Procol Harum. It was sweetened for Hollywood, with strings and a brass band, too. We recorded the backing tracks in four days, and the vocals in a week. We prerecorded every song except Science Fiction, so what you see is all mimed. It would have been easier and cheaper if they'd sung live. But the whole film still cost less than $1m.
I'm staggered it's such a phenomenon. The film's a bit long, and it's so slow. It wilts after an hour then picks up again. That might explain why audience participation started to play a big part at screenings – they probably got bored so they started answering back.
YOU MIGHT ALSO LIKE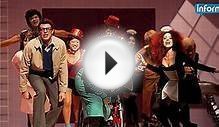 Rocky Horror Picture Show Getting TV Remake at Fox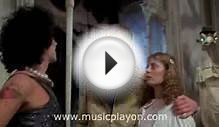 Rocky Horror Picture Show - Sweet Transvestite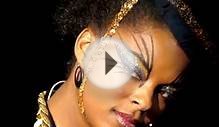 Rocky Horror Picture Show 2009 - Ending of Science Fiction ...
Share this Post