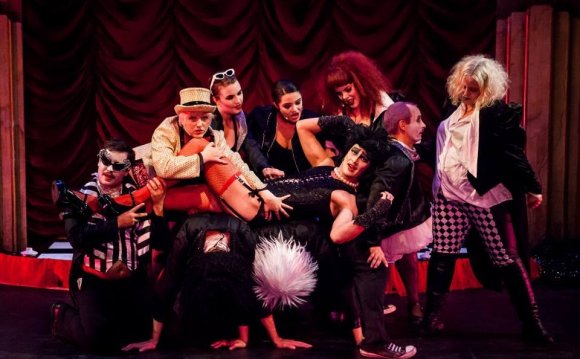 Janet and Brad's car breaks down and the wholesome couple treks into the night to find a telephone. The two stand under a red can suspended by rope, and water falls on their umbrella as they huddle together. After the pair meets the "sweet transvestite" Dr. Frank 'N Furter, a cast member revs a motorcycle — a real one — near the crowd inside The AllWays Lounge. Through the smoke and glitter, the cast sings "Science Fiction/Double Feature, " kicking off a vibrant production.
Some people may be more familiar with The Rocky Horror Picture Show starring Susan Sarandon and Tim Curry, the cult-classic movie adapted from the 1973 musical. Four decades after the film's release, audiences still go to participatory midnight showings. In this production, a live band performs and actors move around the theater, singing songs and sometimes interacting with audience members.
The stranded couple, Brad Majors (Owen Ever) and Janet Weiss (Renee Anderson) is in for an adventure at the mansion. They meet an alien doctor and learn to do the "Time Warp" dance. Anderson is hilarious, playing Janet with bug-eyed wonder and delivering lines such as "Oh, Brad, I'm frightened!" in an an over-the-top manner. As the somewhat straight man Brad, Ever traipses about the stage shirtless, wearing crocheted underwear. In one of the show's funniest moments, he canoodles with Frank 'N Furter (Mac Taylor) in a bed propped onstage. Taylor imbues Frank 'N Furter with a memorably flirtatious and domineering personality.
Most of the action takes place on the barroom's front stage. But the action spreads throughout the space and sometimes actors engage audience members. The production leaves room for improvisation, making the story feel fresh. Performers hop behind the bar and at one point, Rocky (Lester Desaster) busses tables, telling an audience member, "Make sure you grab a drink during intermission." Columbia (GoGo MacGregor) pounds a nail up her nose and then removes and licks it. The drag queen narrator (Neon Burgundy) interjects, "Let's hurry this up. There's a party I'm trying to get to later."
The salacious and playful action devolves into crisis when Riff Raff (Ratty Scurvics, who has one of the strongest voices of the cast) turns on Frank 'N Furter. Taylor is magnetic even when the world around him is being destroyed, one laser beam at a time.
Director Dennis Monn's Rocky Horror Show is dynamic and fun. For die-hard Rocky fans who have attended late-night showings, this production injects the experience with new energy. For those who haven't seen a live version, this production is a worthy introduction.
Nov. 15
The Rocky Horror Show
11 p.m. Saturday, Nov. 8; 8 p.m. Monday, Nov. 10; 11 p.m. Saturday, Nov. 15
YOU MIGHT ALSO LIKE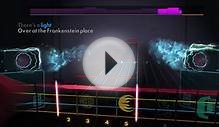 The Rocky Horror Picture Show - Over At The Frankenstein ...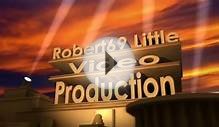 The Rocky Horror Picture Show @ The Merry Pranksters 10-29 ...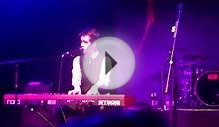 Panic! at the disco - Rocky Horror Picture Show live
Share this Post