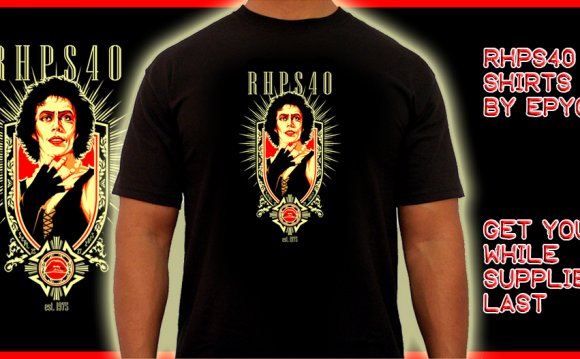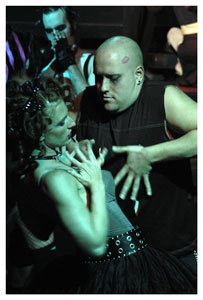 Rocky Horror began its remarkable life not as a film, but rather as a small production in London that author Richard O'Brien wrote to keep himself busy on winter evenings when he was an out-of-work actor. Richard O'Brien was born in London in 1942, but he grew up in New Zealand where, during double features at the local cinema, he developed a lifelong passion for schlocky science fiction and B-grade horror movies, as well as classics like Dracula and Frankenstein, and Marvel Comics (especially Dr. Strange). O'Brien narrowly escaped a considerably less glamorous life as a cheese farmer in New Zealand by moving back to his native London to make a go at an acting career. After performing small roles in the films "Carry On Cowboy and Casino Royale, O'Brien landed a role in Hair and made one disastrous but fateful performance in Jesus Christ Superstar. Although he didn't cut it in the role of King Herod, O'Brien had the opportunity to present his 3-chord rock musical entitled They Came From Denton High to Superstar's director Jim Sharman, who was asked to do a play in the main house of the Royal Court Theater . Sharman remarked that he would like to do that, but wanted some time in the tiny upstairs theater with the play O'Brien had written.
There was one problem: the theater could not cover the costs of production alone, so a producer needed to be found. A tape of Richard O'Brien singing "Science Fiction/ Double Feature" (the opening song) made its way to the desk of Michael White who had produced a London version of "Oh! Calcutta !" White became fascinated with the tape and story concept, and agreed to sponsor the production. Dubbed "The Rocky Horror Show" the play was based on a combination of grade B Horror movies, Steve Reeves muscle flicks and fifties rock 'n' roll. It starred O'Brien as a maniacal handyman named Riff-Raff, and another Hair alumnus Tim Curry in the leading role as Dr. Frank-N-Furter, the kinky scientist who creates "Rocky Horror", his personal Adonis. Even though Curry originally came to read for the role of Rocky, his raucous performance of Little Richard's "Tutti Frutti" made it clear he was destined to play the lead role.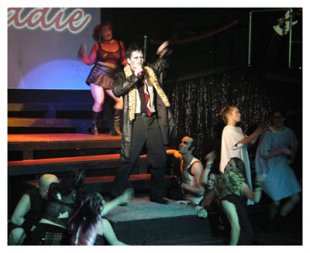 The play opened at the Royal Court 's experimental Theatre Upstairs as a six-week workshop project in June of 1973 to fantastic reviews and packed houses of 60 or so people a night. A good omen for Rocky Horror was that Vincent Price was amongst the opening night attendees. The show received such acclaim at this 60-seat theatre that it was quickly moved to larger quarters in a converted cinema in Chelsea . Following the movie theatre's demolition, the show found a permanent home at the 500-seat King's Road Theatre, where it is still playing to packed houses nightly. The play was named Best Musical of 1973 in the London Evening Standard's annual poll of drama critics. Approximately half the actors in this production would go on to reprise their roles in the film version.
Lou Adler, an American record producer/songwriter who had co-organized the Monterey Pop Festival, was brought to the show by Britt Ekland after being awake many straight hours on a delayed British Airways flight from LA to London . Adler was immediately impressed by the show and was coincidentally at a party a few nights later where he met Michael White. Within 36 hours, Adler had secured the American rights to the show and a Los Angeles production was to be mounted.
Adler invited executives from 20th Century Fox to the play and managed to secure a film deal. Filming of THE ROCKY HORROR PICTURE SHOW began in October, 1974, at Bray Studios, England's famous House of Horror, ' and at a 19th century chateau which served once as the wartime refuge of General Charles DeGaulle.
After completing the six-week shoot, it was decided to open a run of the play on Broadway as a sort of pre-release hype, building anticipation for the film's scheduled release the following fall. The production was brought to the Belasco theater in Manhattan, a legitimate theatre which was converted to a cabaret style venue (like the Roxy) by adding tables to the floor. Unfortunately, the large size of the theater only served to destroy the intimacy which had existed at the show's previous productions. To further detriment, local critics implied that the play had no place in such a cosmopolitan area as New York . Forty five performances later, the show closed without a trace of ever having arrived.
Things didn't appear much brighter on September 24th, 1975 when The Rocky Horror Picture Show had its American theatrical debut. Although the film, touted as "A Different Set Of Jaws", opened to sell-out crowds at the UA theater in Westwood Village (a college town surrounding UCLA in Los Angeles ), the story was quite dismal almost everywhere else. The film bombed in most cities, and looked to be doomed to the vaults until a strange phenomenon was observed. Although theater owners were complaining of low attendance, it seemed that a small dedicated audience was returning for repeated viewings.
While the film was still running successfully in Los Angeles, Lou Adler and Tim Deegan (20th Century Fox's marketing...
YOU MIGHT ALSO LIKE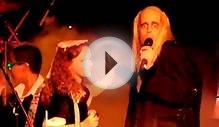 Canyon Club - Rocky Horror Picture Show - Time Warp ...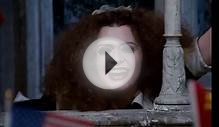 The Rocky Horror Picture Show Fan Trailer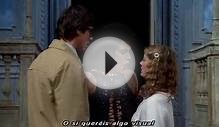 The Rocky Horror Picture Show (Cine Club Clasico) Jim Sharman
Share this Post