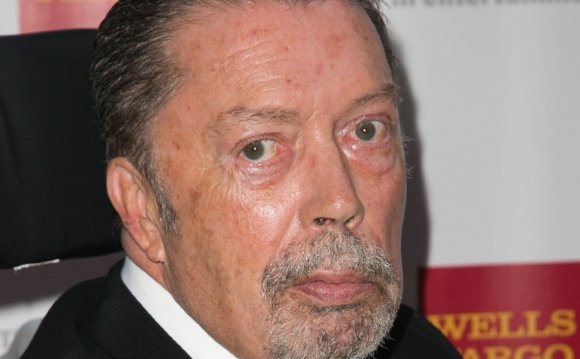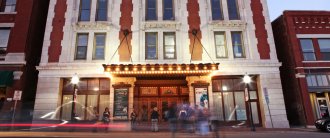 Springfield, Missouri, is far removed from the glittering lights of Hollywood and New York City, so it may be the last place you think of as a thriving hub of theatrical activity. However, this city—the third largest in Missouri—has a rich theater history. Springfield has been the starting place for many acclaimed actors, including silent film actress Pearl White, of "Perils of Pauline" fame, and more recently Kyle Dean Massey, John Goodman, Kathleen Turner, Jack Laufer and Tess Harper.
Here are the top five theater hot spots to check out in the "Birthplace of Route 66."
Springfield Little Theatre
Springfield Little Theatre at the Historic Landers Theatre.
If it's old-world charm you're looking for, Springfield's Landers Theatre is the place to book your next theater experience. The historic venue—built in 1909 and rebuilt in 1921 after a devastating fire—is home to the Springfield Little Theatre, Missouri's oldest and largest civic theater operation. In 1970, Springfield Little Theatre purchased Landers Theatre and has since worked to restore the 527-seat theater back to its 1909 Baroque Renaissance elegance.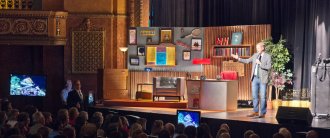 The theater's Media and Marketing Associate, Alex Scranton, said the volunteer-driven organization has been a staple in the community for 81 years.
"Our shows are created by members of the Springfield community, for the Springfield community. Besides our casts, which sometimes have more than 95 performers, we also have a huge volunteer base that helps us prepare for each show, whether that be sewing costumes, building the set or promoting the show in the community. We truly are your community theater."
Springfield Little Theatre produces a season of nine plays and musicals for some 60, 000 patrons annually, but those aren't the only options for theater-goers. Landers Theatre also features concerts and recitals by the Springfield Regional Opera and the Springfield Ballet, including its annual performance of The Nutcracker.
Springfield Contemporary Theatre
Springfield Contemporary Theatre.
Find energetic, modern works on the cutting edge of theater production at the Springfield Contemporary Theatre. The non-profit production company, located in Downtown Springfield, performs more than 30 weekends per year.
SCT is known for its high standards of theater—and its high-caliber talent. Through a partnership with the Actors' Equity Association, the organization is able to bring notable actors to the stage, such as Broadway star Kim Crosby and Lucas Grabeel from the High School Musical franchise.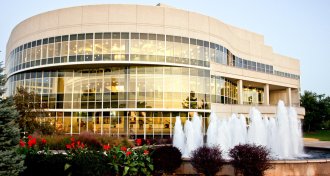 "SCT's theater seats 87 people, wrapped around three sides of the stage, which makes for an intimate experience, " said Rick Dines, managing artistic director.
"We have one of the most immersive theaters in town; you're sitting just 16 feet from the stage. We also bring in shows that are edgier than you might find at other local theaters. Those shows are picked by the directors—the artists themselves—so they are already bringing in a passion for the material, and that passion is reflected in the productions."
Recent shows include "Xanadu, " "Hair, " and "Vanya and Sonia and Masha and Spike."
Gillioz Theatre
The Mystery Hour at the Historic Gillioz Theatre.
The Gillioz Theatre draws in a larger crowd (more than 1, 100 seats are available) looking for diverse entertainment options, from a rock concert one night to "Rocky Horror Picture Show" the next.
Located on Historic Route 66, the Gillioz (pronounced gil-LOIZ) was built nearly 90 years ago. Its design reflects the Spanish Colonial Revival architectural style that was popular in the early 20th century, and its ornate interior, with Egyptian/Art Deco motif, has wowed guests for decades, including Ronald and Nancy Reagan, and Elvis.
Venue manager Joy Bilyeu-Steele said the architecture and welcoming atmosphere are some of the features that set the theater apart.
"The building itself is just breathtaking. I literally find something new every time I walk in. And we want you to feel like you're part of something bigger when you're here; this is your historic Gillioz Theatre. It belongs to the community."
The Gillioz was meant for movie premieres and vaudeville routines, and it enjoyed decades of success. However, in the 1980s and 90s, it fell into disrepair. It would take 16 years to restore The Gillioz to its former glory—it reopened in 2006 and has since hosted a steady stream of films, concerts, comics and Broadway performances.
And with its back row just 100 feet from the stage, it is one of the few places you can get up close to the stars, Bilyeu-Steele said. "Knowing you're going to be 20 feet away from Pat Benatar or Elvis Costello during a performance is an incredible experience."
Juanita K. Hammons Hall for the Performing Arts
Juanita K. Hammons Hall for the Performing Arts. Credit: Missouri State University Photo Services.
One of the newest and largest event venues in Springfield, Juanita K. Hammons Hall for the Performing Arts is expansive, with a 2, 264-seat theater (including multi-level boxes and orchestra pit), as well as public and private reception areas. It is located on Missouri State University's campus and named after the wife of well-known developer John Q. Hammons.
YOU MIGHT ALSO LIKE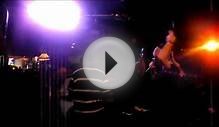 Flizzy Montana Kills Show In Springfield, Missouri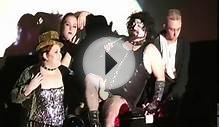 Rocky Horror - "Sweet Transvestite" - July 14, 2007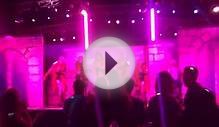 Floorshow - Rocky Horror Live!
Share this Post