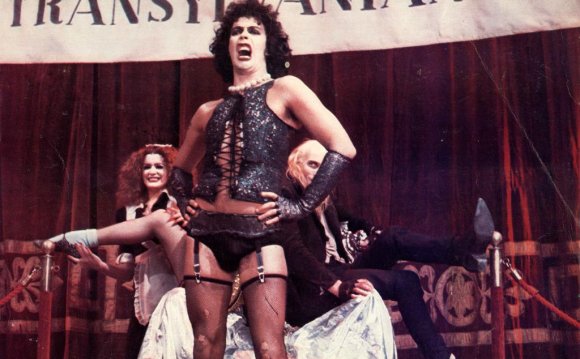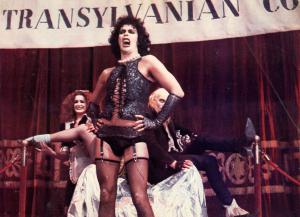 Do you remember doing the Time Warp? We sure do, and we can't wait to throw our own Transylvanian Convention right here in Midtown. Our screenings of The Rocky Horror Picture Show on Friday, October 24 and Saturday, October 25 are the only ones in the Detroit city limits, at the only venue where the eccentricity of the film matches the quirkiness of the space.
On both nights, festivities will begin at 11 p.m. and include a costume contest and other fun surprises for our Unconventional Conventioneers. Tickets are $8. Prop bags will be available for $5 and include rice, rings, newspapers, flashlights, rubber gloves, noisemakers, toilet paper (Scott brand of course), UNBUTTERED toast, party hats, bells, and cards.
Categories for the costume contest include Brad, Janet, Riff Raff, Criminologist (Narrator), Magenta, Columbia, Rocky, Eddie, Dr. Scott, plus "Best Transylvanian, " awarded to whoever has the most detailed and authentic party-goer costume. The winner in each category will receive a Cinema Detroit pass good for 12 free tickets, one per month for the next year (some restrictions will apply).
The Rocky Horror Picture Show
Comedy, Musical – R – 100 min – Tickets $8 – Get tickets online
Fri, October 24: 11:30 p.m. SOLD OUT
Sat, October 25: 11:30 p.m.
The Rocky Horror Picture Show is the story of two conservative young people, Brad (Barry Bostwick) and Janet (Susan Sarandon), whose car breaks down. Looking for a telephone to call for help, they arrive at a castle, where a bizarre party is in progress, hosted by mad scientist Frank N Furter (Tim Curry), his staff Riff Raff (Jim O'Brien), Magenta (Patricia Quinn), and Columbia (Little Nell). Furter unveils his creation, Rocky (Peter Hinwood), and complications ensue.
Rocky Horror is also, to quote the original 1975 production notes, "an outrageous assemblage of the most stereotyped science fiction movies, Marvel comics, Frankie Avalon/Annette Funicello outings, and rock 'n' roll of every vintage. Running through the story is the sexual confusion of two middle-American "Ike Age" kids confronted by the complications of the decadent morality of the '70's."
Although it bombed on its initial release, RHPS has screened in theaters continuously since 1976, when it was re-released and audience participation began. We are proud to keep this tradition alive in the City of Detroit, and start some new ones of our own. Come up to the lab, and see what's on the slab at Cinema Detroit.
Our Rules for the Evening
THE MOST IMPORTANT RULE: Everyone, including the staff of Cinema Detroit, is here to have fun. Have YOUR fun, but let everyone else around you have THEIR fun too.
1. The throwing of rice, toilet paper, etc. is part of the fun. Just remember to throw things UP towards the ceiling. See THE MOST IMPORTANT RULE.
YOU MIGHT ALSO LIKE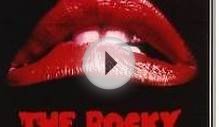 Die Rocky Horror Picture Show (1975) - Jim Sharman - Film ...
[PDF Download] Rocky Horror Picture Show [Download] Online
Share this Post