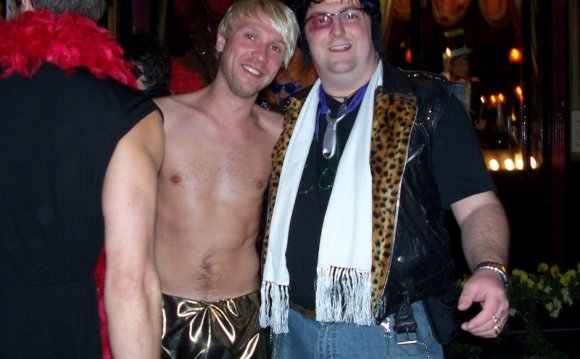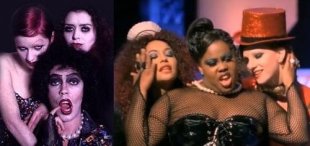 Last night Glee took us on a strange journey with their G-rated version of the Rocky Horror Picture Show. While the cast struggled through the poorly written script, the music, dancing, costumes, and shout-outs were electrifying!
The episode started off with a big-lipped bang that made us all want to cry, because we wanted to be dressed just the same! They even went as far to imitate the intro in their own adorable Gleek fashion:
The premise, however, was a mishmash of old and desperately tired Glee plots. In an attempt to win back the love of the OCD school counselor, Mrs. Pillsbury, Mr. Schuester decided that he would make New Directions put on a performance of Rocky Horror, something she and her new boyfriend, Carl (played by John Stamos) both love.
So Mr. Shuester has a bad plan, and FOX has a highly publicized Halloween special to run. We bit the big bullet of ridiculous plot devices and settled in for some seriously amazing Rocky Horror musical tributes. And the Gleeks rocked it: About 90% of all the songs worked. Sadly the first little ditty "There's A Light (Over At The Frankenstein Place)" was the first example of the 10% that didn't work. While Rachel Berry kills it, just kills it, we were a taken right out of the moment thanks to the highly auto-tuned chorus. Where were the shrieks and cult scream singing we grew up on? Sadly this was only the beginning of Glee's "cleaned up" Rocky Horror. But still, we loved seeing the Glee Club dressed up in their best "Time Warp" attire.

Naturally, Sue Sylvester is employed as the weekly villain, again. She plans to "out" the club's highly inappropriate performance of the sexy musical by doing an undercover expose on her "Sue Sees It" segment. Who gave her this idea? Two criminally underused cameos...
Yep, that's Barry Bostwick, the original Brad Majors, and Meatloaf, otherwise known as that no-good kid Eddie. But in their defense, the banter between these two lovable men is downright hilarious."Mexican Terrorist Ants" indeed!
Moving on, it's time for rehearsals. Kurt is cast as Riff Raff, and my god does he go all out. He is the one Glee cast member who doesn't seem afraid to jump head first into this zany caricature. Watch him nail the choreography...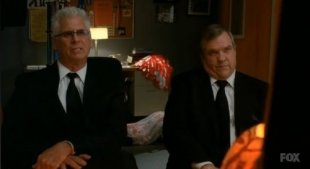 The only other character who really seemed to absorb the spirit of Rocky Horror, was non-Gleek John Stamos. His "Hot Patootie" rendition of Eddie was all sex and leather, but still safe enough to be performed in a high school music room. Also, we think it's high time Stamos sang the "Dentist" number from Little Shop of Horrors.
Mercedes took the role of Dr. Frank-N-Furter, and she even managed to throw in a few new riffs that we truly enjoyed. But, as great as Mercedes sounded, the entire song never really gelled. That doesn't mean we didn't enjoy watching her power house through this routine, it just felt a little off...
Perhaps it was the the G-rated lyrics, or the fact that this version was HIGHLY auto tuned. We wanted to hear soul in that soul. Stepping into Tim Curry's fishnets is not an easy task, but we wish they'd played with the melody a bit more, it just ended up sounding needlessly repetitive.
In "Toucha Toucha Tocha Touch Me" Glee proved that their highly-edited Rocky Horror tracks could still be sexy. Mostly thanks to the pervy Mr. Schuester, who decides that it would be a great idea to seduce the object of his affection in school. Gross. But then again, the point of the song is to be highly inappropriate, so they get a little cred in that area. Emma also did a stand out job filling in for Janet.
All in all, the episode suffered because of it's flimsy plot line, but just watching the highlights right here proves that it was still plenty of fun. Thankfully, Mr. Schue learns another valuable lesson about using the Glee club for his own creepy personal gain. In fact, he makes a point of saying that the original Rocky Horror wasn't about pushing the envelope: It was about creating a place for outcasts. Which is why it's pretty perfect for Glee. Cue Kurt's amazing Riff Raff intro...
YOU MIGHT ALSO LIKE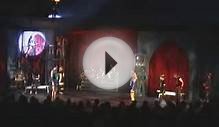 Rocky Horror Show - Science Fiction/Double Feature (Reprise)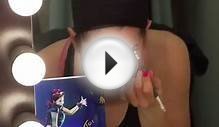 Richard O´Briens Rocky Horror Show - Lieblingstickets hier!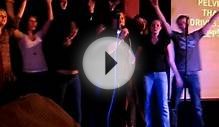 Die Rocky Horror Picture Show - Time Warp - Karaoke
Share this Post