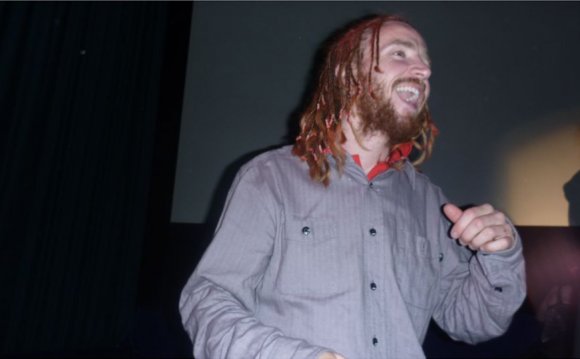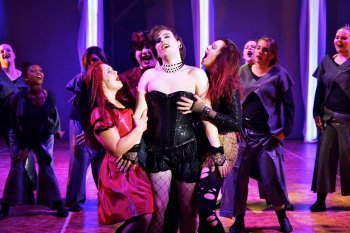 It's difficult to review a production of a show after seeing it numerous times elsewhere on stage and literally many hundreds of times on screen, because the inevitable tendency is to emphasize what is different or unusual. However, most audience members think of The Rocky Horror Show as perhaps the definitive iconic Halloween theater piece, and they are coming to see something familiar. Both kinds of audience members will be happy with the current run at the Warwick campus of the Community College of Rhode Island (CCRI), in abundance.
When it first hit the London stage in 1973, The Rocky Horror Show was an obscure production in a small attic performance space, about as far off-off-off-Broadway as possible, but it became a surprise must-see hit for everyone who had been anyone in Swinging London. The original company had artistic roots in the King's Road proto-punk scene that a few years later would bring first-wave punk to public attention, giving birth to bands such as the Sex Pistols. Hurling itself against every sacred cow it could find, dressing male characters in high heels and corsets, the show reveled in flouting '70s-era sexual taboos with songs such as "Sweet Transvestite, " "I Can Make You a Man, " and "Touch-A Touch-A Touch-A Touch Me." A film version was released in 1975 that, by 1980, was well on its way to becoming the ultimate midnight cult classic.
A parodistic homage to hokey science-fiction and movies from the 1930s through the 1960s, many of which (King Kong, Flash Gordon, The Invisible Man, When Worlds Collide, Forbidden Planet, The Day the Earth Stood Still) are explicitly referenced in the lyrics of the opening song "Science Fiction, Double Feature, " the plot concerns two newly engaged high school students, Janet Weiss (Chelsea Titchenell) and Brad Majors (Jerry Middlemiss), going for a drive to thank the teacher of the science class, Dr. Everett Scott (Matthew Charles Parker), in which they first met. On the way during a drenching thunderstorm their car breaks down and they seek refuge in the castle of Dr. Frank N. Furter (Antonio DiPrete) who, attended by his household servants Riff-Raff (Ryan Harris) and Magenta (Victoria Jessop) as well as his groupie Columbia (Victoria Ezikovich), is an alien mad scientist transvestite trying to create a monster, Rocky Horror (Brayam Renovales), in the process making use of rocker and outlaw badboy Eddie (Jeana Ariel Garcia). Periodically the action is explained by a Narrator (Nicholas P. Menna) who also occasionally interacts with the characters. The aliens "from the planet Transsexual in the galaxy Transylvania" include an ensemble of dancing Transylvanians (Erin Battista, Margret Celico, Ryan Cloutier, Audrey Lavin Crawley, Nicholas Hennemann, Victoria Lafond, Destinee Mangum, Kimberly, Middlemiss and Kayla M. Rainey).
Director Ted Clement wisely avoids slavishly copying the well-known film, in some cases casting very effectively against type. The statuesque, lithe and near-feline Ezikovich as Columbia seems a full head taller than the hard-rocking Siouxsie-Sioux-like Garcia (wearing a Sex Pistols T-shirt) as Eddie, and they make a good pair in a reversal of the usual visual dichotomy. All of the vocals were on point, but some departed from tradition, notably DiPrete as Frank with an effective but soft, jazz-inspired style and the magnificent Jessop as Magenta (and Usherette) with a hint of operatic style. The show follows very much in the rock-musical theater tradition of its era, heavily influenced by Jesus Christ Superstar and Hair, so there is a lot of room for interpretation that the CCRI cast made good use of. Titchenell as Janet Weiss ("Touch-A Touch-A Touch-A Touch Me"), Renovales as Rocky Horror ("Sword of Damocles") and Garcia as Eddie ("Hot Patootie") all nailed their respective solo pieces.
The set seems inspired by classic horror films, especially where Rocky Horror is created in a vertical "womb" tank reminiscent of the 1958 Hammer film Revenge of Frankenstein. (Be warned that there is quite a lot of chemical fog.) A projection multimedia system provided good background during "Science Fiction, Double Feature" by showing clips of the classic movies referenced in the song, along with somewhat puzzling creepy images such as a giant eye. Keeping the Transylvanian ensemble on stage for most of the show turned some of the songs into synchronized dances — a good idea.
YOU MIGHT ALSO LIKE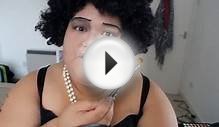 Frank N Furter Makeup Tutorial - Rocky Horror Picture Show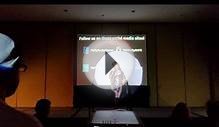 Transylvanian Nipple Productions - American Horror Story ...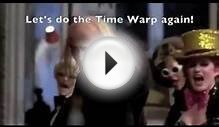 Time Warp Rocky Horror Picture Show Halloween Dance ...
Share this Post