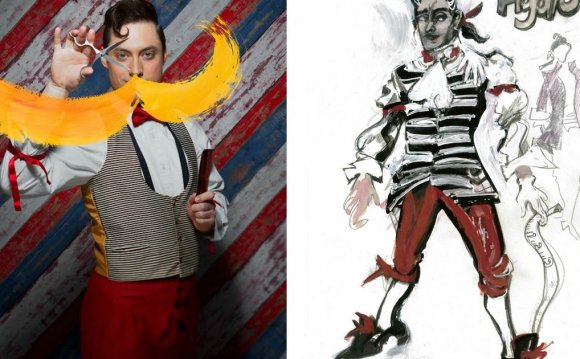 Young Frankenstein
Young Frankenstein is a musical adaptation of the classic and enduringly hilarious 1974 Mel Brooks comedy film of the same name, written by Brooks and Gene Wilder and directed by Brooks, who has described it as his best film.
SKETCH CABARET UNDEAD: Gallery Stroll After Party
Sketch Cabaret events are transformational, celebrating change and authentic experience. Every SC show is different. Come as you are. Bring your art supplies! There will be live costumed models to paint and draw all evening. The event will also feature performance, visual art, a dance floor, a fine art showcase, installation, DARK Sound, and Eccentric SLC.
When: October 16th, 9 pm - 2 am
Where: Metro Bar
Admission: $15 general admission / artists $10 with student ID
21+
Sketch Cabaret + Dance Evolution: Halloween Monster Mash
Want to do something exotic this Halloween? Grab your most impressive costume and get thee to the second of Sketch Cab's October events, this one on the actual night of All Hallow's Eve. This artsy party will feature a full bar, DJs and dancing, aerial artists, fire performers, a red-carpet photo entrance, and more.
When: October 31, 8 pm - 2 am
Admission: $10 after 10 pm
Science of Fear
Come explore the mysterious realm of fear. What happens inside your brain and body when we're afraid? Why do we have this feeling? When do normal fears become neuroses? And why do we sometimes seek out the scary? Explore these answers with moderator Jennifer Napier-Pearce from Salt Lake Tribune as she digs deep with local fear experts.

When: October 22, 6 pm - 7:30 pm. Doors open at 5:30 pm.
Where: The Leonardo
Admission: Free
The Rocky Horror Show Concert
Pioneer Theatre Company announces key cast members for this year's production of The Rocky Horror Show - Concert Version, which will run for four performances. A fun-loving tribute to horror and science fiction B-movies of years ago, The Rocky Horror Show tells the wacky tale of innocent couple Brad and Janet. Newly engaged, their car breaks down in the woods on the proverbial dark-and-stormy night. They soon meet Dr. Frank N. Furter, the "Sweet Transvestite" mad scientist who is about to reveal his latest Frankenstein-esque creation. With a little help from drive-in usherettes, creepy sidekicks, and, of course, the "Time Warp, " Brad and Janet usher in the Halloween season. Contains strong sexual themes and language.
When: October 22 & 23, 8 pm. October 24, 5 and 10 pm.
Where: Simmons Pioneer Memorial Theatre - University of Utah
Admission: $25 - $40
SLUG Localized: 90s Television, Bat Manors, The Artificial Flower Company
SLUG Magazine is proud to bring you "Localized, " an all-local showcase in downtown SLC. This month's is an indie rock show featuring 90s Television, Bat Manors, and The Artificial Flower Company. Doors open at 8pm, music starts at 9pm, and this show is completely free to the public. (Must be 21+ to enter.)

Rocky Horror at the Tower
It's the 40th anniversary, folks! Yes, the 1975 cult classic returns to the Tower Theatre for this annual October event. If you prefer the cinema to the stage or just can't make the Pioneer Theatre concert version, join the traditional popcorn-throwing crowd at the Tower to watch newlyweds Brad and Janet (Barry Bostwick and Susan Sarandon) seek shelter from a storm in the castle of Dr. Frank N. Furter (Tim Curry), a mad scientist from the planet Transsexual.
When: October 23rd- 31st 7:30 & 11:30 pm showings
Where The Tower Theatre
Admission: $10
Learn More
Dining in the Dark
Mark your calendars for an out-of-the-box experience: dining in the dark. In celebration of Halloween and the Leonardo's newest exhibit, Perceptions, you and your guests will be blindfolded for dinner. You'll have to rely on taste, touch, and smell as Salt Bistro's Executive Chef Zanetta Jones walks you through exactly what you'll be eating. (Don't worry, the menu item will be revealed at the end of each course.)
When: October 23 @ 7:00 pm - 9:00 pm

Where: The Leonardo
Admission: Individual: / designated driver:
Dia de los Muertos Celebration
Join The Sharing Place for its annual Dia de Los Muertos Celebration, benefiting the grief center's services for children and families. Saturday, October 24, beginning at 6pm, Sugar House will be alive with music, sugar skull decorating, and a traditional Dia de Los Muertos alter. Tickets for the celebration are available for to the general public and for students with ID. This cost includes the price of a meal provided by Red Iguana. During the event, attendees will have the opportunity to bid on signature "Love Baskets" created in memory of a loved one who has died. In addition, face painting, tarot card reading, live performances (including salsa dancers), and a cash bar will all be available.
When: October 24th
Where: Westminster
Admission: $45 general admission (includes dinner and live music), $35 for students with ID
Ghost
Ghost is a Swedish heavy metal band that was formed in Linköping in 2006. In 2010, they released a 3-track demo followed by a 7" vinyl titled "Elizabeth, " and later their debut full-length album Opus Eponymous.
Mysterioso: Music, Magic, and Mayhem
Treat yourself to an exciting evening of electrifying music, laughter, and mind-blowing illusions performed by world-renowned magicians and musicians.
Talia Keys and Friends Halloween Bash
Talia Keys is having her annual Halloween Bash on Friday, October 30th, featuring the talents of the local Salt Lake music scene, decorations, costumes, and the lights, sound, and vibe of the State Room.
This year, nationally touring local blues and rock-and-roll artist Tony Holiday will start off the night with his band the Velvetones. Tony shreds the harp with fierce passion, and his band is tight. Grits Green, hip-hop heroes of bass, drums, guitar, and rhymes, will follow. To end the night, Talia has hand-picked some of her favorite local musicians to help her recreate the music of the King of Pop, MJ, The Gloved One, Mr. Thriller himself: Michael Jackson.
97.1 ZHT's - Zoo Bash featuring DJ Panama Hosted by Frankie, DB, & Jess
It's time for the 8th Annual ZHT Zoo Bash, the biggest Halloween party in the city. Tickets are on sale now. Event is 21+.
When: Friday, October 30th, 9:00PM
Where: The Depot
Admission: Tickets in advance are $15.00
Skalloween!
The place to be for for the not-quite-21 crowd, Kilby Court's costume party will feature some of SLC's best ska bands.




YOU MIGHT ALSO LIKE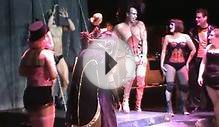 The Rocky Horror Show (revamped)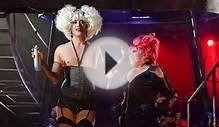 Reviews and Highlights For The Rocky Horror Show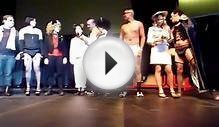 Rocky Horror Picture Show Costume Contest
Share this Post