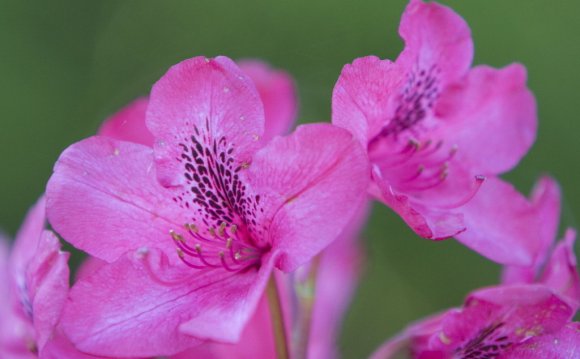 The Music of Starstruck
Both Gillian Armstrong and David Elfick saw the role of music as integral to the film, Elfick having previously worked with screenwriter Stephen MacLean on Go Set Magazine. Australia was in the midst of a musical renaissance, and it was hoped that the film would provide an international platform for rising stars of the local scene.
Finding a band that fit the bill proved more challenging than expected. Though many musicians submitted compositions for the film's theme song, no likely candidates were found, and with shooting drawing ever closer, the situation became desperate - until Phil Judd and his band, The Swingers, came on to the scene.
The producers were thrilled with Judd's take on the title song, and he was enlisted to contribute further original compositions. Though Judd later remembered being asked to write 'ten songs in ten days', only two were used, ''Temper, Temper' and 'Tough'. Another, 'Gimme Love', had already been released. Judd also composed incidental music for the film, as well as appearing in it with the other members of his band. Surf guitarist Dennis Nattrass performed the remainder of the songwriting duties.
The Swingers
Though The Wombats were created for the movie, The Swingers were very much a real band, formed in New Zealand in 1979 from former members of the Suburban Reptiles and Split Enz, of which lead singer Phil Judd was a founding member.
'One Good Reason' (known on the Starstruck soundtrack as 'Gimme Love') was the band's first single, released in 1979. It was not until 1981's 'Counting the Beat' that the band found themselves with a major hit, the song reaching number 1 in both Australia and New Zealand and remaining one of Australasia's most beloved pop classics to this day.
If The Swingers had hoped that Starstruck would be their ticket to international fame, they were to be disappointed. Amidst ongoing tensions and financial problems, the band split up at around the same time that the film was released.
Phil Judd went on to pursue a solo career, later composing music for a number of other Australian films, including The Big Steal (1990), Death in Brunswick (1991) and Mr Reliable (1996).
Soundtrack Album
The Australian version of the soundtrack was released by Mushroom Records, whose professional manager, Jenny Keath, was the album's musical co-ordinator. Released two months prior to the film, the soundtrack reached #17 on the Australian charts. By October 1982 it had been certified gold for sales of over 20, 000 units.
While The Swingers naturally dominated the album, a few tracks were left to other acts. Turnaround, led by 20 year old Tony Voglino, was the least known of the bunch. According to publicity, the band were formed in February 1981, had travelled to Sydney from their native Tasmania to play on the local pub circuit, and by April 1982 had released their first and only single, 'Let's Do It'. By contrast, Mental As Anything, whose contribution was 'Humming a Tune', had already had two top ten hits with "If You Leave Me, Can I Come Too?" and "Too Many Times, " and went on to become one of the quintessential Australian bands of the 1980s.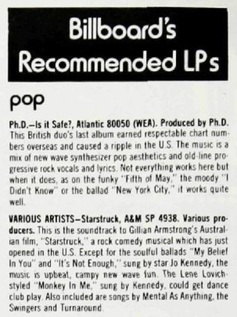 The LP featured a very innovative gatefold sleeve - by cutting out the figures that were included and gluing them in to the right places on the sleeve, you created a crazy little pop-up version of the Starstruck world. Amazing! See the pictures below for the results.
Much to the annoyance of many fans, the soundtrack is still yet to appear on CD or MP3.
Track Listing
Side 1
'Starstruck Overture' Performed by "The Swingers" (Judd) 1.05

'Starstruck' Performed by "The Swingers" (Judd) 3.47

'Gimme Love' Performed by "The Swingers" (Judd/Hillman/Stiggs) 3.09

'Temper Temper' Performed by Jo Kennedy (Judd) 2.57

'It's Not Enough' Performed by Jo Kennedy (Dennis James Natrass) 3:51

'Tough' Performed by John O'May and Jo Kennedy (Judd) 4:23

'Humming a Tune' Performed by Mental as Anything (Smith) 2:54

Side 2
'I Want to Live in a House' Performed by Ross O'Donovan (Miller) 3:07

'Body and Soul Performed by Jo Kennedy (Tim Finn) 3:39

'My Belief in You' Performed by Jo Kennedy (Kosmin/Brown) 4:23

'Turnaround' Performed by Turnaround (Jeffrey/Voglino) 2:32

'Monkey in Me' Performed by Jo Kennedy (Dennis James Nattrass) 3:08

'Starstruck Finale' Performed by "The Swingers" (Judd) 2:44
Singles
Three singles were released to promote
Starstruck
in Australia. The title tune 'Starstruck' was released prior to the movie's debut; followed by 'Body and Soul', and 'Monkey in Me'. Of these, 'Body and Soul' was the standout performer, reaching #5 in the Australian charts, while 'Monkey in Me' attained #76.
'Body and Soul' was also featured heavily in promotions for the film, part of what music critic Glenn A. Baker described as 'an effective blanket of mixed-media promotion' - a regular part of movie promotion today, but extremely innovative at a time when MTV had been broadcasting for less than a year.
'Body and Soul's B-side was 'Rocking Institution' by Paul Kelly and the Dots, a song that does not appear on the soundtrack LP, but can be heard as background music when Jackie and Angus are at the Lizard Lounge.
Sheet Music
Sheet music was issued for at least one single, 'Monkey in Me'. This featured several promotional stills from the film.
Censorship Controversy
Starstruck received a serious blow to its promotional prospects when the Commonwealth censor banned any footage from the film being shown on television before 7:30pm, including the music videos for Starstruck's singles. This reflected the NRC (Not Recommended for Children) rating that had been given the film itself, based on coarse language and brief nudity - but the videos themselves were perfectly innocent and contained neither of those elements.
"This means the clips cannot be screened on teenage shows like Countdown, Simon Townsend's Wonderworld, Sounds and Hey, Hey, It's Saturday, because they go to air before 7.30 at night." Gillian Armstrong told "What upsets us is that clips from NRC or M rated musicals like Grease, The Rocky Horror Show, Fame and Can't Stop The Music were shown on those programmes while ours have been banned. We feel we are being victimised . With any musical it is important for the people to know the tunes before they see it and most hits from musicals are broken on TV. It has been suggested that we make new clips but that would be very expensive and we have no money left. Really, we've got to fight this and get the law changed."
Several appeals were lodged against the decision. In the meantime, Countdown's Molly Meldrum, always a vocal supporter of Starstruck, did everything he could to help promote the film without breaking the rules, including giving Jo Kennedy and Ross O'Donovan special guest hosting roles on the on the show.
American Soundtrack Release
In America, the soundtrack album was released by A&M Records, and used the same pink and blue palette as other US promotional material for the film. The track listing remained unchanged from its Australian release.
In anticipation of an imminent Australian rock invasion, the film and its soundtrack was heavily promoted in US industry publications such as Billboard Magazine.
High hopes were held for both the film and its soundtrack in America. "I honestly believe that Starstruck can work even better in the US than in Australia, " producer David Elfick told Billboard. "We've studied how kids react to it here [in Australia], so we can refine our campaign in other territories. The film is engagingly optimistic, which seems to me to be the US character. It's not a musical in the style of Xanadu or Grease because it's much more hip, more rock and roll … just like Australian music, there's a certain intentional rawness."
Just as Elfick and Gillian Armstrong predicted, Australian bands such as INXS and Men at Work were soon joined by Crowded House, Icehouse, Midnight Oil and others in taking the international music world by storm - a revolution that came just little bit too late for to share fully in its spoils.
YOU MIGHT ALSO LIKE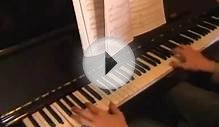 Sweet Transvestite - The Rocky Horror Show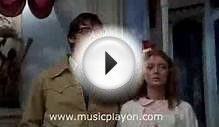 Rocky Horror Picture Show - Time Warp (cover - see info)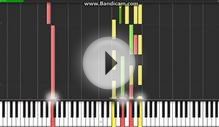 The Rocky Horror Show - Super Heroes Piano Tutorial
Share this Post