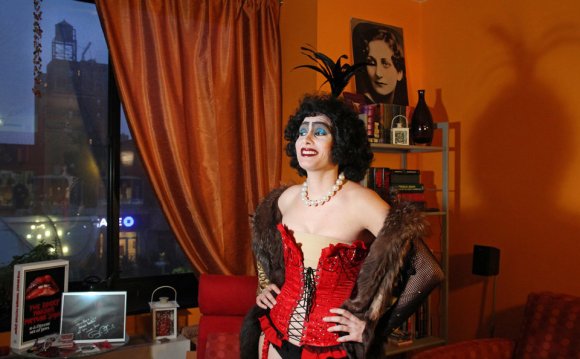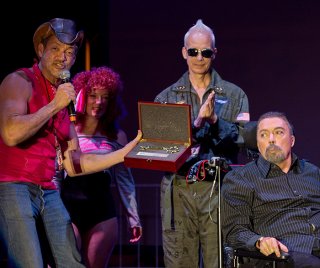 West Hollywood City Councilman John Duran presents Tim Curry, the star of 'The Rocky Horror Picture Show, ' a key to the city during the city's Halloween Carnaval celebration Oct. 31. The film marked the 40th anniversary of its release last week. (Photo by Jon Viscott)
WEST HOLLYWOOD — The city's annual Halloween Carnaval celebration paid tribute to the 40th anniversary of "The Rocky Horror Picture Show, " the cult film that continues to be shown at festive midnight screenings around the world.
A day earlier, the Los Angeles City Council declared Oct. 30 as "Rocky Horror Picture Show Day" in the city in tribute to the film
City Councilman Paul Koretz presented a proclamation to the film's star, Tim Curry, who played Dr. Frank-n-Furter, as well as to the movie's producer, Lou Adler, and Sal Piro, president of the Rocky Horror Picture Show Fan Club, during ceremonies inside the City Council chambers.
"This is a great honor, " Curry said of the recognition. "Hooray, I'm so glad that our day is so close to my favorite American holiday, Halloween!"
The singer and actor appeared in a wheelchair, still suffering the after effects from a stroke he suffered three years ago.
Adler credited the movie's longevity to Curry's musical talent and charismatic performance.
"The reason that this film started and has never ended is because of Tim Curry, " said Adler, who was inspired to make the movie after seeing Curry star in the London stage production of "Rocky Horror."
Piro said he was "blown away" by the movie when he saw it in New York, and went back to see it repeatedly. He's not the only one, with the movie drawing "crazy fans, ardent fans, the devoted fans, the kids who keep this movie alive week after week, year after year, " Piro said.
While the B horror movie-inspired musical comedy received poor initial reviews, it launched a "unique and enthralling" cultural phenomenon of fervent audience participation during midnight screenings, Koretz said.
The movie's premiere in 1975 introduced the world to numerous memorable characters, including Dr. Frank-n-Furter, the "sweet transvestite" scientist from "Transsexual, Transylvania" who is eager to unveil his lab creation to the unsuspecting, recently engaged couple, Brad and Janet.
Audiences were "delighted and transformed by this extraordinary film, and its sense of wit, vitality and community, " Koretz said.
Midnight showings, which take place weekly in Los Angeles, frequently feature a live "shadow" performance, while audience members wearing costumes sing along and shout at the screen, throw rice and other objects and shoot water pistols.
Koretz said the film's playful treatment of gender struck a chord with audiences.
The film has been "helpful in the gay and bisexual rights movement, the acceptance of fabulous drag queens, and has provided an essential community for people who otherwise may feel themselves on the fringe of society, " he said.
Koretz closed his declaration of Rocky Horror Picture Show Day by invoking "the immortal words of Dr. Frank-n-Furter, " telling the public to "give yourself over to absolute pleasure — and don't dream it, be it."
YOU MIGHT ALSO LIKE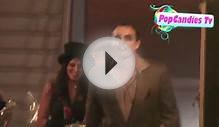 Julian McMahon leaving Wiltern Theater in Los Angeles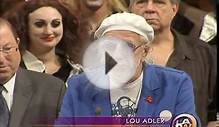 Rocky Horror Picture Show Day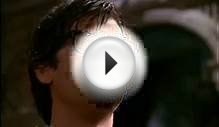 The Rocky Horror Picture Show
Share this Post