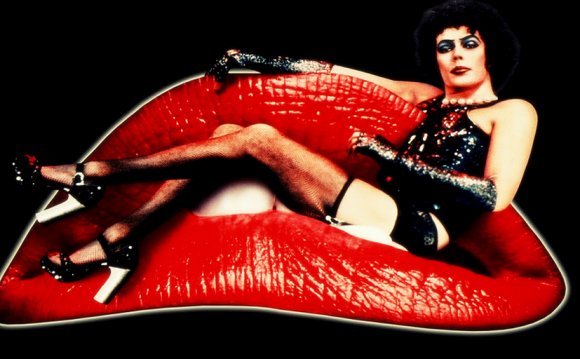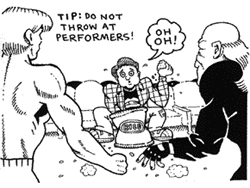 Take a step to the left and come join us in celebrating this iconic movie experience!
In this cult classic, sweethearts Brad (Barry Bostwick) and Janet (Susan Sarandon), stuck with a flat tire during a storm, discover the eerie mansion of Dr. Frank-N-Furter (Tim Curry), a transvestite scientist. As their innocence is lost, Brad and Janet meet a houseful of wild characters, including a rocking biker (Meat Loaf) and a creepy butler (Richard O'Brien). Through elaborate dances and rock songs, Frank-N-Furter unveils his latest creation: a muscular man named "Rocky."
Prop List as explain at the RHPS Fan Site –
Artwork by Phil Dejean
Here is a basic list of props and instructions for their use in participation to RHPS. This list may vary according to theater policy or local customs.
Rice: At the beginning of the film is the wedding of Ralph Hapschatt and Betty Munroe. As the newlyweds exit the church, you should throw the rice along with the on-screen wedding guests.
Newspapers: When Brad and Janet are caught in the storm, Janet covers her head with a newspaper The "Plain Dealer". At this point, you should likewise cover your head.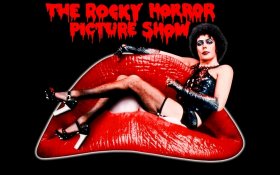 Water pistols: These are used by members of the audience to simulate the rainstorm that Brad and Janet are caught in. (Now do you see why you should use the newspapers?)
Candles, flashlights: During the "There's a light" verse of "Over at the Frankenstein Place, "you should light up the theater with candles, flashlights, lighters, etc. (Be careful to respect the theater's policy about open flames – remember you are wearing newspapers on your head!)
Rubber gloves: During and after the creation speech, Frank snaps his rubber gloves three times. Later, Magenta pulls these gloves off his hands. You should snap your gloves in sync each time to create a fantastic sound effect.
Noisemakers: At the end of the creation speech, the Transylvanians respond with applause and noisemakers. You should do the same.
Confetti: At the end of the "Charles Atlas Song" reprise, the Transylvanians throw confetti as Rocky and Frank head toward the bedroom. You should do the same.
YOU MIGHT ALSO LIKE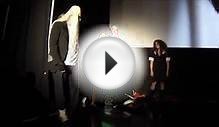 The Rocky Horror Picture Show - 40th Anniversary Edition ...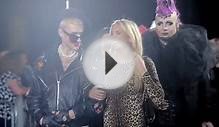 The Rocky Horror Picture Show 40th Anniversary Party ...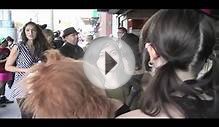 Rocky Horror Picture Show 35th Anniversary
Share this Post