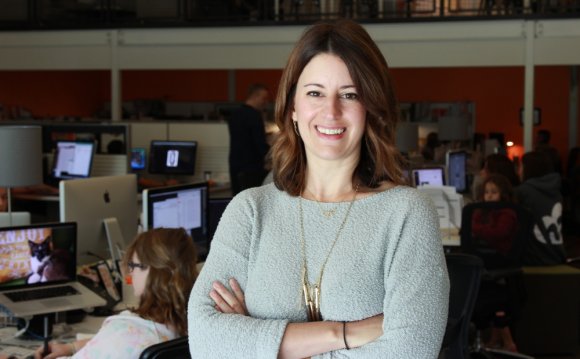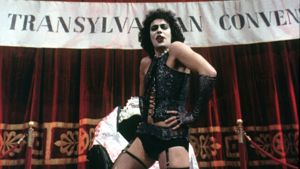 Fox Developing 'Rocky Horror Picture Show' Remake »
Later this month, Adler will be able to say he's heard four decades' worth of Rocky Horror lore, since the cult movie about newlyweds trapped in a mansion with a "sweet transvestite from Transsexual, Transylvania" will be turning 40. To celebrate, the film will be reissued in a limited-edition box set, which is due out September 22nd and comes with collectibles like fishnets and pink surgical gloves. A reissued version of the classic soundtrack is available now. The album, retitled Absolute Treasures: The Rocky Horror Picture Show, is available digitally and on red vinyl and CD, and it includes the movie version of the song "Sword of Damocles, " which has never before been available on a soundtrack.
Adler originally brought the theatrical production, The Rocky Horror Show, over to the States from the U.K., keeping original actor Tim Curry in the iconic, starring role of Dr. Frank-N-Furter, and he has seen Rocky Horror grow from a cult film to a $150 million success. "It is the longest-running film in history, so it's touched a lot of people, " Adler says. "When you look at the grosses of Star Wars or E.T., and you see these enormous numbers, you have to remember Rocky went from a cult film to making $150 million when tickets were $3 and $4. So the amount of people that have seen Rocky is probably way above that have seen those other films."
Adler, who started out in the record industry working with Herb Alpert, Jan and Dean, and Sam Cooke before producing Cheech and Chong, and Carole King's Tapestry, recently spoke with Rolling Stone about how Rocky Horror became more than a cult sensation.
You saw a theatrical production of The Rocky Horror Show in 1973 and decided to bring it to the Roxy Theatre in Los Angeles. What struck you about it?
Well, Tim Curry's legs to begin with. As much as he had a manly feel about him, it was seeing him dressed as Frank-N-Furter in heels. When it was playing at the Roxy, even if I didn't go for the whole show, I always made sure I was there for the entrance. So it was that and the music. I was brought up in the Fifties with that pop rock & roll music. The fact that musicals had any rock & roll sense, like Hair or Jesus Christ Superstar, was interesting. Musicals all had Broadway-type music then. That's what got me.
What's the story behind the version of "Sword of Damocles" that's coming out on Absolute Treasures?
When we were putting it together, I started reading Internet comments to see if we were missing anything. And I ran across one that read, "The version of 'Sword of Damocles' that's on the soundtrack is not the one in the film. I've A-B'd it." And this pretty much astounded me. So I called [soundtrack producer] Richard Hartley, and he told me a funny story.
Peter Hinwood, who played Rocky, did not sing, so we dubbed him. It turns out that there was a version of the song that was recorded by someone from the chorus. They were playing that version in his ear for him to mimic to. And that was the soundtrack; we've been putting it on soundtracks for 40 years. But what happened was Jim Sharman, the director, didn't think it sounded naïve enough, like something that somebody that was just born, which was the Rocky character, would sing. So they had someone on the set, an Australian singer named Trevor White, sing it right to 35mm. It never went to tape. And that's why we didn't get on a soundtrack. But as soon as I found out, I called [arranger] Richard Hartley. And now we were able to add it as a bonus track on the album. It's really nice.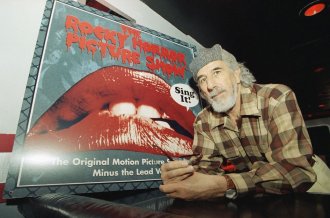 Have you discovered anything else interesting like that lately or is that it?
This was the latest. I'm surprised that only one fan picked up on this. They usually bombard me.
It's great that you listen to the fans for guidance.
Some of those people have been with it since the very beginning, so we've looked for their input on when to put out a piece of product, basically everything except when to do another movie. They don't like that too much.
But you're working on a TV-movie version of Rocky Horror, I've read.
We're going to do something for Fox, if we can get the cast right. I don't want to do it if it's not going to live up to the way people embraced the movie over the past 40 years. We're not casting an original script; in a way, we're casting "Tim Curry." So if somebody is compared to Tim, they're going to lose. He should have won an Academy Award in 1975.
Have you seen any actors that could take on a role like Dr. Frank-N-Furter?
No, not really [laughs]. I'd like to find something interesting and edgy and not just a "name." The problem is the studio would like to find just a name. But unless we find some really interesting casting, and it stars Frank-N-Furter, we probably won't do it.
Is it true that Mick Jagger once asked to play Frank-N-Furter?
Oh, I don't know. I don't know if he ever seriously would have played it. I'd like to see him do the narrator role in this film that we're doing, though. That would be good. Tim Curry's look in the movie must have had some influence on Bowie and Mick and a lot of artists at that time.
Lou Adler in 1995. "You have to remember 'Rocky' went from a cult film to making 0 million when tickets were and , " he says. AP/Reed Saxon
Since you said fans don't like it when you do another movie, what happened with the quasi-sequel Shock Treatment, which came out in 1981 but was a flop?
First of all, it was bastardized as far as what it was going to be, since the budget was slashed. So we had to do it all in a studio. The other problem was we tried to do a sequel when the original was still playing. And the actors like Tim Curry, Susan Sarandon and Barry Bostwick, they weren't in the movie. So we were casting below what was already playing. The thing about Shock Treatment that makes me sad is that the music is so good and was never exposed. Richard [O'Brien, Rocky Horror creator] wrote really good songs for that film. "Little Black Dress" is a classic and nobody has really been exposed to those songs. I know that Richard recently tried the theatrical version of it, which also didn't go over.
Were you working on Shock Treatment at the same time you were directing Ladies and Gentlemen, the Fabulous Stains, which came out in 1981?
No. I worked on Fabulous Stains in 1979 to '80. I think with that movie what we were saying about bands, how they were coming together and the exploitation, was a little too insider at the time. But it's got a really nice cult following now. I'll take a cult. They still talk about Rocky Horror as a cult even though it's done a $150 million.
What are your most vivid memories of working on The Stains?
We had some real nice actors, Laura Dern and Diane Lane. They were 13 and 14 years old. They were both pros and easy to work with. And we had Ray Winstone, who became a big-time actor actually, and the Clash and Sex Pistols guys. I got to be really good friends with a couple of them.
Did it work out pretty easily getting that "band" together with the Clash and Sex Pistols guys?
We just took a shot at the Sex Pistols and ended up with Paul Simonon of the Clash, the bass player, too, and we just put the group together. Steve and Cookie came right in and we built around that.
"'Rocky Horror' is a rite of passage. It's a family film."
YOU MIGHT ALSO LIKE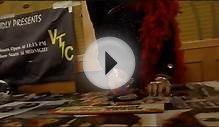 Patricia Quinn of Rocky Horror Picture Show signing autographs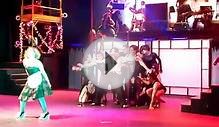 Rocky Horror Picture Show Time Warp at Milburn Stone Theatre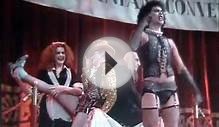 Zydrate Anatomy - Rocky Horror Picture Show
Share this Post