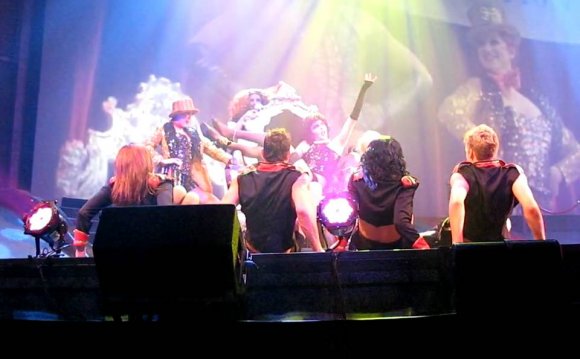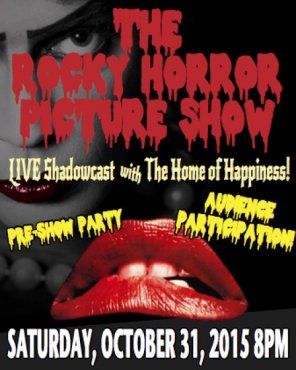 Let's do the Time Warp again! The Newton Theatre is hosting a Rocky Horror Picture Show – Halloween party on Saturday, October 31st. A pre-movie party will begin at 8:00 pm with music, dancing and a costume contest. The cult classic will be shown immediately following. Prop bags will be sold in the lobby for audience participation.\
A professional shadow cast, The Home of Happiness, will perform scenes throughout the movie. This will add an exciting element to the party atmosphere and movie going experience.
The Rocky Horror Picture Show is the longest running theatrical in history, playing continuously in theaters since 1975. The story of Brad and Janet takes a strange twist after their car breaks down and they unwittingly become houseguests of the outlandish Dr. Frank-N-Furter, who introduces himself to them in the iconic song Sweet Transvestite. Song, dance and pandemonium ensues with a bizarre cast of characters.
Tickets for The Rocky Horror Picture Show – Halloween Party are $10.00. Purchase tickets by visiting or contact the Box Office at 973-383-3700.
The historic Newton Theatre, located at 234 Spring Street in Newton, NJ, was founded in 1924. Revitalized and fully renovated, Sussex County's premier entertainment venue reopened in 2011 as a 605 seat capacity live performing arts center. With it's rich history and diverse programming The Newton Theatre is essential to the buoyancy of New Jersey's Skylands region. More information about The Newton Theatre may be found by calling 973-383-3700 or by visiting its website at www.TheNewtonTheatre.com.
YOU MIGHT ALSO LIKE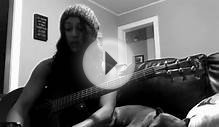 Acoustic Cover - Rocky Horror Picture Show Songs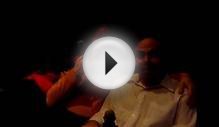 Sweet Transvestite from Rocky Horror Picture Show sung by ...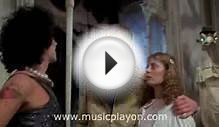 Rocky Horror Picture Show - Sweet Transvestite
Share this Post