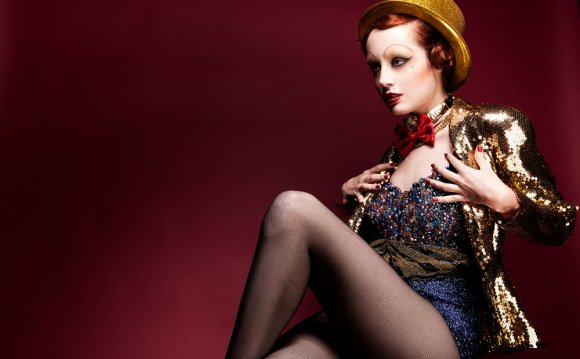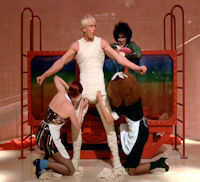 "I'm gonna give you some terrible thrills / Like a science fiction double feature"
In 1973, The Rocky Horror Show debuted on the British stage as a campy musical. Only two years later, in 1975, a movie version was released in the United States – renamed The Rocky Horror Picture Show – and while the original release was considered a flop at the time, the movie quickly attained cult status. Forty years after its release, limited midnight showings are still held in college towns, art houses, and other independent venues.

The film is true to its camp theater beginnings and is framed in the style of 1940's- and 1950's-era science fiction B-movies. The fact that it is "science fiction" (a gutter genre at the time) is meant to excuse its excesses and weak elements – mainstream audiences were never supposed to take it seriously, and forgive inconsistent plot points and over-the-top costumes and acting. Yet science fiction, by virtue of the fact that it is outrageous and patently "not real, " often uses that license to expose and challenge truths about the social mores of its audience. In the case of The Rocky Horror Picture Show, the lessons are primarily ones of sexual deviancy, and how sexually-oriented fringe communities – such as the '70s gay pride movement – were seen and portrayed by the mainstream society and how they reacted to that portrayal.
The movie's plot is paradoxically both simple and ridiculously complicated. Brad and Janet (played by Barry Bostwick and Susan Sarandon), are "two normal, healthy kids" forced to seek shelter in a castle when their car gets a flat tire in a storm. Once inside the castle, they encounter Frank N. Furter (Tim Curry) and his bizarre and gender-bending assortment of servants and guests. Brad and Janet are immediately stripped of their storm-soaked clothing and spend the rest of the movie in their underwear, a symbolic removal of social norms. Over the course of the evening they face many sexual and societal transgressions to which they must adapt.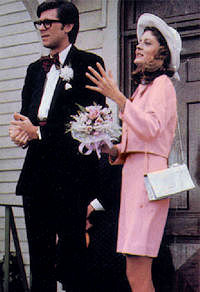 Eventually, they flee the castle in their underwear, barely escaping with their lives.
The name Frank N. Furter is a play on words, meant to evoke the slang usage of hot dog synonyms to refer to male genitalia, but also to conjure the allusion of Dr. Frankenstein from Mary Shelley's novel – for, as Brad and Janet learn, Frank has a lab in the castle where he is creating Rocky (Peter Hinwood), the perfect (male) lover for himself. Rocky, not coincidentally, is "born" in a tank of rainbow-tinted glass, clearly meant as a reference to the Pride Flag, in use by the LGBT community since the early 1970s.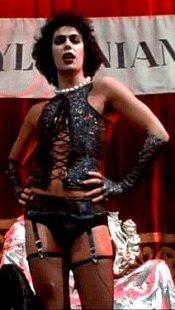 The celebration of Frank's successful experiment is cut short by Eddie, a failed experiment who escapes from "the vault" and is subsequently killed by Frank. Frank then immediately marries Rocky, but despite retiring to his honeymoon suite with his self-made ideal lover, he still takes time during the evening to visit (and have sex with) both Brad and Janet in their separate bedrooms. Dr. Scott, an old friend of Brad and Janet's, later arrives at the castle in search of Eddie, who was his nephew before he became Frank's lab experiment. Eventually it is revealed that all the castle's inhabitants are aliens; two of Frank's supposed servants, Riff-Raff (Richard O'Brien) and Magenta (Patricia Quinn), are actually his social superiors, and they kill both Frank and Rocky, and return the castle to its planet of origin.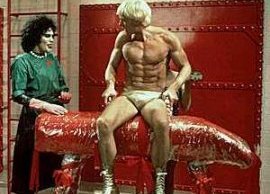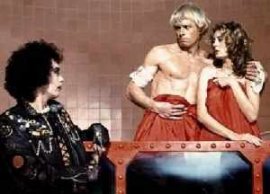 YOU MIGHT ALSO LIKE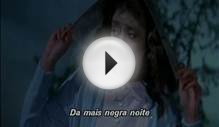 Rocky Horror Picture Show - Over At The Frankenstein Place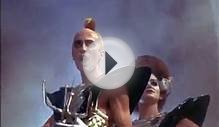 1975 - The Rocky Horror Picture Show - Jim Sharman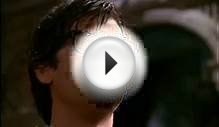 The Rocky Horror Picture Show
Share this Post