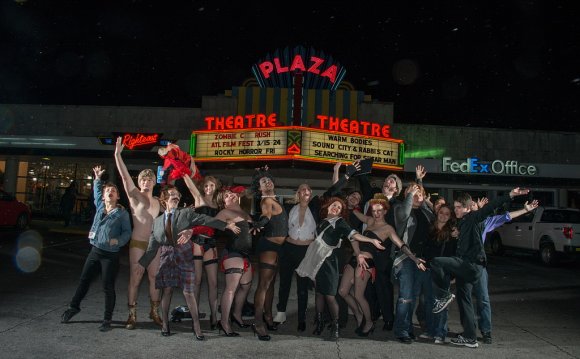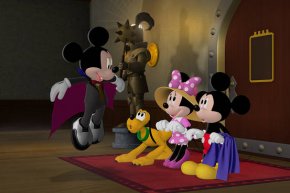 A scene from 'Mickey's Monster Musical.' Disney Junior
"Mickey's Monster Musical, " this year's Halloween-themed episode of Disney Junior's "Mickey Mouse Clubhouse, " is meant for toddlers and preschoolers, but it also has some tricks and treats for parents.
It may seem like an odd match, but much of the episode pays homage to risqué cult movie musical "The Rocky Horror Picture Show, " which marks its 40th anniversary this year. "Rocky Horror, " with its sex-charged story and moments of violence, is definitely not for kids, but the minds behind "Mickey Mouse Clubhouse" wanted to tap into its B-movie, dance-party spirit.
"You might feel there's a connection to 'The Rocky Horror Picture Show, ' which we know parents will get, but not necessarily the kids. They'll just see it as fun, " said Mark Seidenberg, producer and story editor for "Mickey Mouse Clubhouse." Executive producer Rob LaDuca takes the "Rocky Horror" comparison as a compliment.
They said they take parents and guardians into consideration when they're writing episodes. "You have to, " Seidenberg said. One example in a previous episode depicted Mickey adopting the adventurous persona of Kansas City Mickey, a reference to Indiana Jones complete with a heroic theme that echoed John Williams's score for the Steven Spielberg films.
The "Monster Musical" story sets up like this: Mickey and Minnie take a road trip and, like Brad (Barry Bostwick) and Janet (Susan Sarandon) in "Rocky Horror, " they end up stuck at a spooky mansion on a dark and stormy night. There, Mickey and Minnie meet characters who are monstrous doppelgangers of their buddies back at the clubhouse. "Of course, our monsters are very friendly, " Seidenberg said. That's not necessarily the case in "Rocky Horror."
The Mickey Mouse monster character Count Mikula, who sings of being from "Clubhouse-ylvania, " is the counterpart of "Rocky Horror" character Dr. Frank N. Furter (Tim Curry), who sings about coming from "Transsexual Transylvania." Later in the episode, Minnie sings a song that evokes Janet's "There's a Light" in "Rocky Horror, " while the appearance of Pete, a hefty cat character, is meant as an homage to Meat Loaf's Eddie character in the 1975 film.
Seidenberg and LaDuca are "Rocky Horror" fans, but they both also loved the classic Universal monsters. The appearance of the monster version of Clarabelle Cow, for instance, is influenced by the poof-haired look of Elsa Lanchester's Bride of Frankenstein.
LaDuca said he would build models of monsters such as the Wolf Man, but then he would have to hide them in his closet at night because he was afraid they would come to life. "That was my animation imagination coming to life at an early age, " he said.
The "Monster Boogie" number, which teaches dance steps to the kids watching the show, is the "Time Warp" of the episode, but Seidenberg and LaDuca also wanted to capture the spirit of the Bobby "Boris" Pickett novelty hit "Monster Mash."
Still, with all of these monsters and ghosts romping about, they were worried that the episode might end up being too scary for some kids.
Like with many of their episodes, they did a storybook test for "Monster Musical, " which entailed arranging illustrations and the story into something like a book that is then read to children aged 3 to 5. Seidenberg and LaDuca attend the sessions to see what the kids find funny or scary. Or, if something goes over their heads, the writers then work on finding a way to make the story clear enough for young minds.
The "Monster Musical" session was a success, they said. The Goofy monster, in particular, was a big hit with the audience because of his Frankenstein-style head and his lack of awareness about being a monster. Count Mikula, likewise, is a vampire who only drinks grape juice and is probably the most easily scared of the characters in the episode.
"Kids love spooky things, and this is spooky fun, " Seidenberg said.
"Mickey's Monster Musical" will air nine more times through Halloween on the Disney Channel and Disney Junior. It is also available on DVD.
YOU MIGHT ALSO LIKE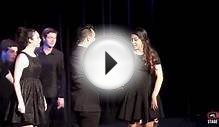 The Rocky Horror Picture Show - Dammit Janet!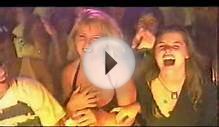 Sweet Transvestite from Rocky Horror Picture Show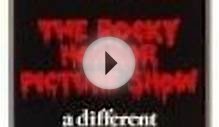 The Rocky Horror Picture Show (1975)
Share this Post